Gibson Community Music Hall
Live Music Venue on the Avenue!
Located in Downtown Appleton, WI.
Stay tuned for our new website (coming soon!) and check out our upcoming events on Facebook.
If you would like to contact us regarding more info or band bookings please email gibsonmusichallevents@gmail.com.
updated covid-19 protocol – august 2021

To our Gibson family and friends,

With the significant changes occurring in the live music industry driven by the intensifying spread of the COVID variants, Gibson Community Music Hall is initiating changes to its admittance policy for all shows for the near term.

Beginning with the show on Saturday, August 21 and continuing until further notice, we will be requiring proof of COVID vaccination or a negative COVID test for admittance to shows. You may show your vaccination card (original copy or digital proof) or negative test result (within 72 hours prior to show date) at the door upon entry.

The Gibson Team will work with each performing artist or group of artists to determine attendance and staff protocols based on a combination of artist preference/comfort level, venue/staff preference, and current public health information.

Thank you for supporting live music performance!

---

We are open again!

The Gibson Community Music Hall Team is beyond thrilled to announce that we are open again for live music events!

Check out our FACEBOOK PAGE or event calendar for up-to-date info on live events.

---

building Update – April 2021

We at Team Gibson are excited to pass along details the building owners have shared about a new building update.

For decades the iconic garage door at the Gibson building has not been functional but every owner has tried to band-aid and repair it as much as possible. The current owners even added garage doors on the facade of the second level to keep the original garage feel of the building alive. The car ramp was removed in 2014 but still the lower level garage door was kept. It has unfortunately now been deemed unsafe and needed to be removed.

With community safety in mind, the decision was made to add another pedestrian door offering convenience and safety for both patrons and musicians playing on the front stage. The new door and windows will add visibility as well. We are excited about the update and hope the garage doors on the upper level keep the history and nostalgia of the 1930's Gibson Auto alive.
Quality Entertainment
Whether you're a performer, avid music fan, or looking for a friendly place to relax, we have something for you!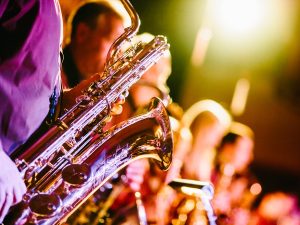 MUSIC. CULTURE. PASSION. COMMUNITY.
For Musicians
We book bands & musicians of different styles and experience on two different stages. Some equipment ranging from lighting, PA, and Drum Kit, etc. available!
For Fans
Meet up with friends in a relaxing, comfortable setting while enjoying a variety of original music and of course your favorite beverage!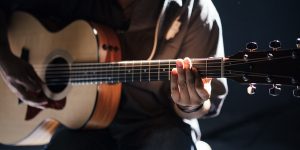 SUCCESS OF ALL
Supporting you, whether music is your career or your passion, there's no better place to enjoy it than at Gibson Community Music Hall!