---

Desert Noises w/ The Accords
November 22, 2019 @ 8:30 pm
$15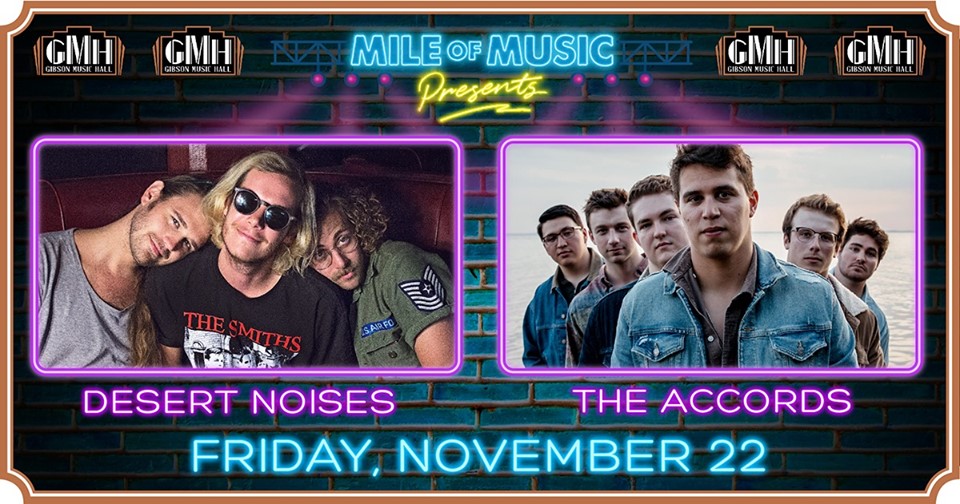 Mile of Music Presents is proud to bring Mile of Music alumni Desert Noises back to Downtown Appleton! The Accords will kick off the party on November 22 at Gibson Music Hall.
The Accords will start at 8:30 p.m. on the Front Stage at Gibson, followed by Desert Noises on the Back Stage of the venue!
This is a 21+ event and is a club-style show with very limited seating available.
Who: Desert Noises, The Accords
When: Friday, November 22 at 8:30 p.m. (Doors at 7:30 p.m.)
Where: Gibson Music Hall Front Stage (Gibson Music Hall – 211 W. College Avenue, Downtown Appleton)
Tickets: $12 in advance, $15 at the door (if they remain). Purchase here: https://www.brownpapertickets.com/event/4415312
—————————————————————-
ABOUT DESERT NOISES:
Desert Noises is back. Hailing from Provo, UT the band toured extensively throughout the years playing major festivals and venues of all sizes. After a brief hiatus, all four original members are ecstatic about playing music together again and continuing the journey that started over a decade ago. This extended break saw the guys dive into individual artist projects and tours with other bands such as, Cage the Elephant, RayLand Baxter, Wild Child, Harpooner, Dove & the Wolf, Nightingail, and Microwave Mountain. Now, Desert Noises returns to the scene more focused, wiser, and more inspired than ever.
After recording and releasing two new songs (summer 2017) in Austin, TX with some help from members of Wild Child and Shakey Graves. They have started work on a new full length album in their relocated home of Nashville, TN. Its a familiar sound echoes of the spatial landscapes in Mountain Sea, the visceral growl in 27 Ways, and peak yearning from singer-songwriter Kyle Henderson. Theres no telling how high this mountain is that they are climbing, but for four friends from the desert, climbing is what makes them feel at home.
Desert Noises is Kyle Henderson (vocals, guitar), Tyler Osmond (bass, vocals), Brennan Allen (drums), Pat Boyer (guitar)
ABOUT THE ACCORDS:
The Accords released their first EP Paper Rhymes in 2018 and theyve since worked with GRAMMY Award-winning producer Gavin Lurssen on their two most recent singles, Vegas Sun and Feels Like. This Wisconsin-based band has performed at many venues across the Midwest, including Summerfest, and its jam-based improvisations make for a memorable musical experience. The Accords have a unique blend of voices that enhance their sound, which is reminiscent of Southern California rock.
—————————————————————————————-
This is a 21+ event.
We want everyone to feel safe and welcome at this event, as well as all other Mile of Music Presents events. View our full Vision of Respect here: https://mileofmusic.com/respect/
Mile of Music/Mile of Music Presents events are produced for the community by Willems Marketing & Events, Inc.
DISCLAIMER: By purchasing a ticket, you voluntarily assume all risks and danger, including the risk of lost, stolen or damaged property or personal injury incidental to any event for which the ticket is issued and waive all claims against the event sponsor, the owner of the facility, the ticket producer or issuer. Admission is subject to compliance with all laws and facility rules and the ticket holder consents to reasonable examinations and searches to ensure compliance. Failure to comply with the law or facility rules may result in refusal of admission or ejection from venue. The ticket holder grants the right and license to Mile of Music/Mile of Music Presents to use his or her image, likeness, name, voice, comments or other proprietary or public rights and that of any minor accompanying the ticket holder in any online promotion, public broadcast or any future use without notification or compensation. Artists subject to change. All sales are final. No refunds or exchanges.
---