---

Flannel Fest North Nov. 2 Gibson Music Hall, Appleton
November 2, 2018 @ 6:00 pm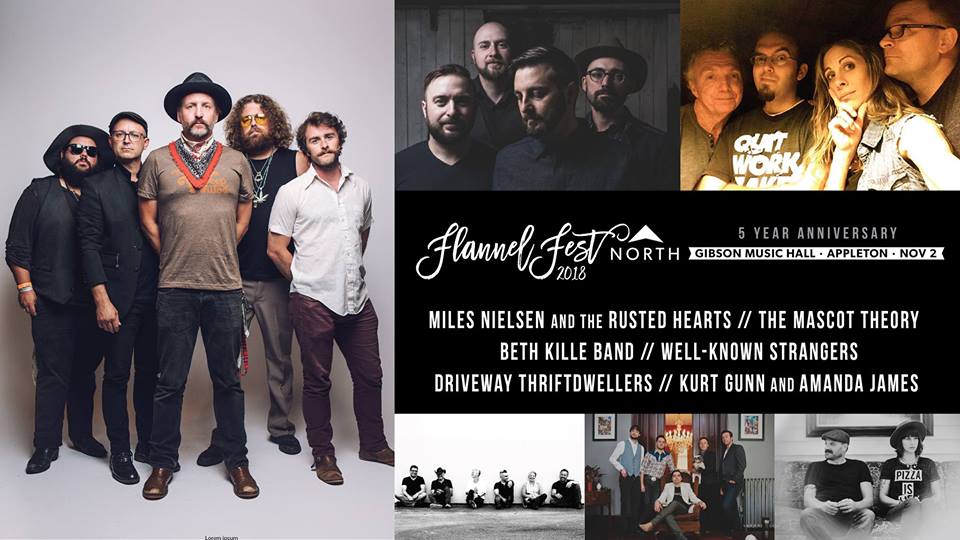 DATE: Friday, November 2, 2018
LOCATION: Gibson Music Hall, Appleton, WI
DOORS: 5:00 pm
SHOW: 6:00 pm
Tickets available here:
https://www.brownpapertickets.com/event/3596758
LINEUP:
Miles Nielsen and the Rusted Hearts
The Mascot Theory
Beth Kille Band
Well Known Strangers
Driveway Thriftdwellers
Kurt Gunn and Amanda James
FLANNEL FEST
Stone After Stone Records presents FlannelFest in collaboration with Mile of Music. Now in its 5th year in Madison and second year in Appleton, Flannel Fest has become an annual celebration of local, regional and national Americana music. Bust out your favorite flannel attire and join the fall-inspired party with some of Wisconsin's most talented and decorated Wisco-Americana artists. Mile Nielsen and the Rusted Hearts headline the event.
We are once again pleased to partner with Keep Wisconsin Warm/Cool Fund, the non-profit benefactor of Flannel Fest. The Keep Wisconsin Warm/Cool Fund (KWW/CF) is a statewide non-profit charitable effort that steps in and keeps the heat and power on for thousands of elderly, people with disabilities, veterans and working families with young children in crisis. As a result of generous public, private, business and individual support, KWW/CF provides preventative services and the financial assistance necessary to avert energy-related crisis situations. The KWW/CF provides the only safety net that keeps those most in need safely in their homes.
Learn more about our charity on their website at:
or their Facebook page at:
facebook.com/pages/Keep-Wisconsin-WarmCool-Fund
Thank you Flannel Fest for your support. It made such a difference in keeping the heat and power on for so many in need in our community. We are very much looking forward to this year's event.
— Tim Bruer, Director of Keep Wisconsin Warm/Cool Fund
Miles Nielsen and the Rusted Hearts
For Miles Nielsen, every experience, every conversation, every dream is a potential song in the making. Miles's songs breathe with a sense of yearning and ownership. You want to have another record, another song- you want to hit rewind…you want to know more about this world created in song by Mr. Nielsen A captivating wordsmith, instrumentalist, and creator of hooks- rare indeed, but present in the person of Miles Nielsen. There are very few people writing music that makes you immediately wish there was "more"- another song to make you turn up the volume , another nugget of melody or lyric that you can find some part of to make your own. Gifts like Miles's come along very infrequently, and one can only hope that his ability to be so "in the now" -listening for the songs spoken in the everyday world, will continue to grow. Then maybe that "more" we are looking for, will be given to us all… in the songs of Miles Nielsen.
The Mascot Theory
The Mascot Theory can be described as a high-energy dose of toe-tapping Americana folk-country rock drenched in tight harmonies spewing lyrics of love, loss, regret, death, and hope. They balance on an alternative folk influence and pull it together with a rootsy bluegrass blended Americana feel to give something that fits alongside their counterparts, but also has enough freshness to it to give it a unique spin and create their own sound as well, with a sonic backbone of 4-part harmony swells. Along with a 2017 WAMI (Wisconsin Area Music Industry) win for Best Male Vocalist (Erik Kjelland) and a nomination for Best Americana/folk artist, The Mascot Theory has won 22 MAMA (Madison Area Music Association) awards including back to back 2016 and 2017 Artist of the Year awards.
Beth Kille Band
At first glance, you may not know what to make of them….the farm boy, the intellectual, the ex-Marine, all backing up a wild-haired, shoot-from-the-hip spirited woman. But then the show begins, and you know you're about to be wrapped in the arms of a cohesive unit bonded in the kinship of music. The four members of the Beth Kille Band -Michael Mood (bass, backing vocals), Tony Kille (drums), Michael Tully (guitar, backing vocals) and Kille herself (guitar, mandolin, vocals) – have amassed some impressive accolades. In addition to numerous songwriting recognitions, Kille grabbed one of her 19 Madison Area Music Association (MAMA) Awards when she was named "Artist of the Year" in 2010 and Tully snagged the highly-competitive "Guitarist of the Year" Award in 2014. Their style can best be described as Americana Rock but these dynamic performers can play everything from folk to funk to in-your-face rock.
Well Known Strangers
Well-Known Strangers has been entertaining Midwest audiences with their cello infused, alternative pop/rock sound. Members Joe Adamek (acoustic guitar), Betsy Ade (lead vocals, guitar), Sacia Jerome (cello, background vocals), Theodore Koth (lead guitar, background vocals) Roger Gower (drums/percussion) and John Kulas (bass guitar) just released their new EP "Path Away" on May 4th and radio stations around the country are spinning & streaming their single "Sidewalk". Together, the band members have an amazing mix of musical knowledge and education that provides a unique sound that is reminiscent of familiar of music from the '90s while being expressively groundbreaking and melodically rich. They have been humbled by their success and performing with acts that include Blind Melon, Blue October, Candlebox, and many more. While Ade and Adamek do most of the songwriting, it's the band's creative spark and sonic diversity that are the driving force behind their sound.
Driveway Thriftdwellers
Starting out as a few guys who just wanted to play some Flying Burrito Brothers tunes, the Driveway Thriftdwellers have emerged as a top original act in Wisconsin's Country and Americana music scenes. Named 2017 WAMI Country Artist of the Year, the Thriftdwellers have toured the past year in support of their critically acclaimed debut album "Cutover Country," named a top 10 Milwaukee area album of 2016 by the Milwaukee Journal Sentinel. The Milwaukee Journal Sentinel declared the Thriftdwellers' 2017 Summerfest performance a "Best Of" performance for the festival, and called the band a must see live act for Summer 2017.
Kurt Gunn and Amanda James
Wisconsin natives Kurt Gunn & Amanda James have been writing and performing introspective, folk-inspired music together throughout the midwest since 2015. Kurt has released 5 solo albums over the course of the last decade with Amanda adding harmonies. The duo is currently working on their anticipated debut album …and a band name. Stay tuned…
---